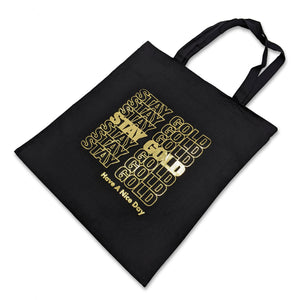 Stay Gold Reusable Grocery Bag (2-Pack)
24% From Every Sale Goes Towards Helping Fight Climate Change*
Climate change is one of the most serious, yet underplayed threats to our future on this planet. With the rapidly increasing prevalence of wildfires such as the Dixie and Caldor fire, it is unequivocal that we are in a climate crisis. While our unhealthy obsession with burning fossil fuels has fast-tracked us to hitting the point-of-no-return +1.5 °C average global warming, there is still time to adjust our lyfestyles to prevent irreversible damage to the environment.

One simple change we can take is by switching to reusable grocery bags. Currently in the U.S. we consume nearly 60,000 single-use plastic bags every 5 seconds, requiring twelve million tons of petroleum to produce each year and releasing dangerous chemicals as they pile up in landfills. These GoldLyfe Reusable Grocery Bags are made from 100% renewable cotton, last for hundreds of uses, and are biodegradable so they return gently back to the earth when they're put to rest.

An even greater change we can make is by supporting environmental organizations such as the Coalition for Rainforest Nations (CfRN). This organization is the gold standard for preserving and protecting rainforests by rewarding developing countries with payments for actions to conserve and restore forest lands. With deforestation accounting for nearly 15 percent of global CO2 emissions, this is a critical solution for tackling the climate emergency and aligning the planet back to a sub-1.5 ºC pathway. GoldLyfe supports this mission and will donate 24% of the proceeds from every sale to enable countries and peoples of the world that own the remaining rainforests to build a sustainable balance between humans and the environment.

*24% from every sale will be donated to The Coalition for Rainforest Nations. While GoldLyfe is in no way affiliated with The Coalition for Rainforest Nations, we have done our due diligence and believe they are one of the best organizations to support in effectively combatting climate change.

2 Pack Bundle

Metallic gold detailing
Premium 6.0 oz., 100% cotton canvas
Size 14.5" x 15.5"
22" heavy duty cotton canvas handles
Designed and hand silk-screened with love at GoldLyfe Palace, Los Angeles
Wash cold, hang to dry